Upcoming event:
SugarLAN v11.0
26-28 May 2017 - Brabanthal, Leuven, Belgium
Participants:
0 / 924
Thanks for being part of SugarLAN v10.1

w00t w00t! What an extraordinary weekend! You all made the best of it! Thanks for creating such a wonderful atmosphere!
A special thanks to all sponsors, crew, volunteers, partners, city Tienen and YOU!!
See you next year!
PS.: expect pictures upcoming weekend!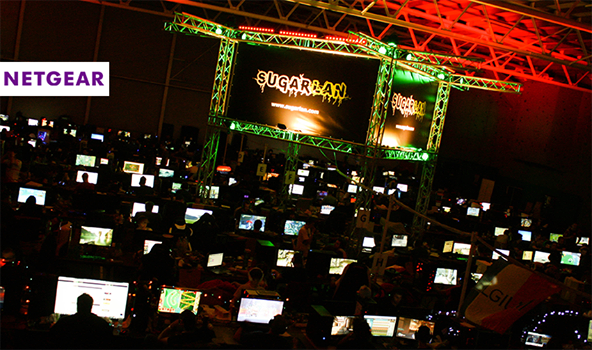 Kayzr & SugarLAN partner compo

Kayzr & SugarLAN partner compo
Saturday evening people can have a blast in the Kayzr Rocket League Rumble compo live at SugarLAN.
Compo Information
Only people present at SugarLAN can participate in this competition. You can sign up by:
Creating an account
Add your gamertag under the 'My Profile' tab on your profile
Create a team with at least 3 players present at SugarLAN for the game Rocket League
Come to seat D2 & D3 to confirm your team (ask for Fraise or Neglexis)
Prizes
Feedback & questions
If you have any questions feel free to ask them at our discord server or by sending a mail at: [email protected].
HOWTO
Under the rules tab you find all info about how to create lobbies with your team
Enter the score between each game in the sidebar on the right
GL & HF TO ALL!

Door omstandigheden zijn er nog enkele aanpassingen gebeurd aan de prijzen van enkele competities.
Bij deze wissels hebben we geprobeerd de waarde +- gelijk te houden.
Volgende aanpassingen zijn gebeurd:
UT2k4:
2th: Corsair Sabre ipv Roccat Kova
Rocket League:
2th: Corsair Sabre ipv Roccat Kova
Overwatch:
1st: Corsair Raptor K40 ipv Roccat Kave
Compo-inschrijvingen CSGO, RL en LOL

De compo-inschrijvingen voor CS:GO, Rocket League en LoL sluiten binnen enkele minuten!

We zien dat ernkele problemen zijn qua online gaming.
Overwacht hebben we net op een aparte lijn gezet, dit probleem zou opgelost moeten zijn.
Momenteel nemen we Rocket League onder handen

Welkom @ SugarLAN!
Alle inschrijvingen zijn weer geopend.

20u45: BEL-BOS @ Cafetaria!
21u30: Loting CSGO, HearthStone en LOL
23u00: Start Pokercompo
KAYZR Rocket League Rumble 3v3 competition!

On Saturday evening KAYZR will organise a Rocket League 3v3 competition @ SugarLAN v10.1
Register your team at https://kayzr.com/tournament/QhWFWpuqnQGSJKuPA .
GLHF!!!